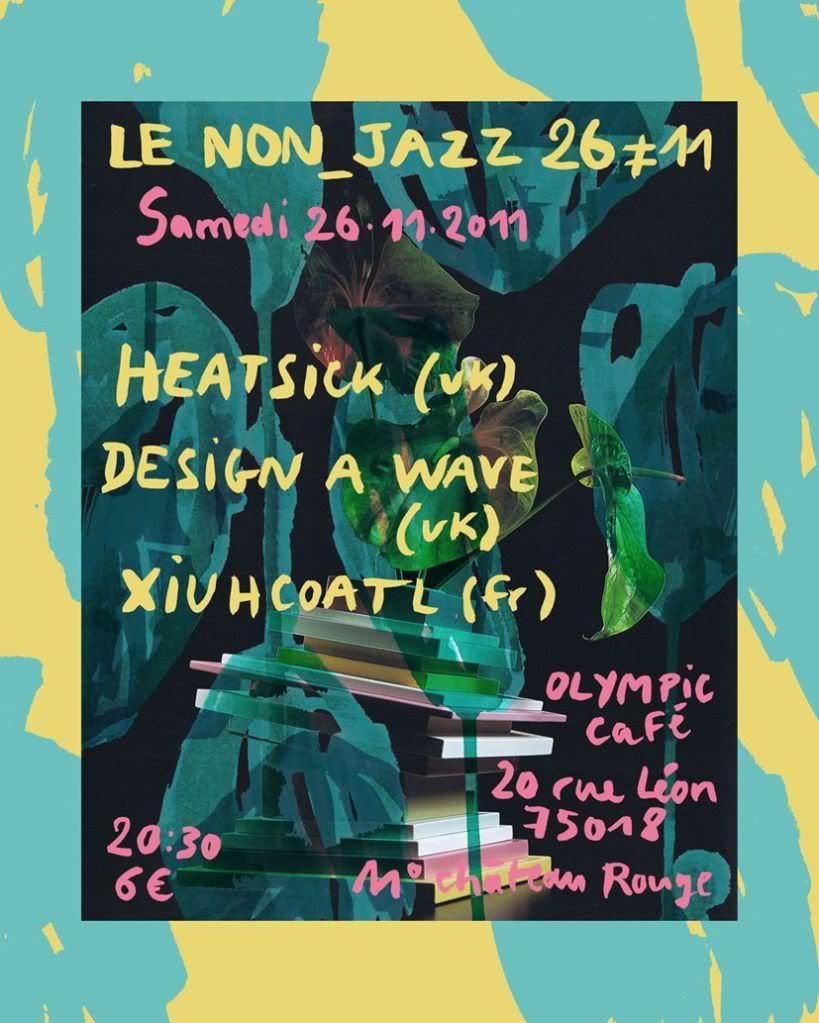 --------- samedi 26-11-2011 ----------
Le Non_Jazz#2611::
HEATSICK (uk)::
DESIGN A WAVE (uk)::
XIUHCOATL (fr)::
@l'OLYMPIC Café
20, rue Léon
75018
M° Château Rouge
20:30 portes
21:00 début des concerts
6€
"I was almost obsessed with mixing, but listening to how the idea of dance music is always remixed and kind of in flux as well.
I kind of had this perverse idea for the new Heatsick thing of playing the keyboard, but playing as if I was a DJ, like how a DJ mixes between tracks. I'm really obsessed with imitation."
HEATSICK (uk)::
~experimental gay dance music/musak?
La moitié de BIRDS OF DELAY (duo british de noise conceptuelle), Steve Warwick a développé son projet solo depuis ~5 ans
& après diverses incarnations stylistiques (+ divers autres alias: Birds of Prey, Hungover Breakfast etc), l'avatar actuel de sa "musique kaléidoscopique" explore davantage son obsession pour le son de la house old school de Chicago - travaillant essentiellement à base de sons produits par un vieux Casiotone, vintage et ébréché + une pédale de boucle.
Le supposé handicap de l'instrument - la majorité des touches manquant ou dysfonctionnelles - devient une contrainte formelle poussant le musicien à faire preuve d'encore plus de discipline et d'inventivité (less is more, hein)
"Heatsick uses various instruments including voice, keyboard and percussion to create saturated washes of tone, floating and disintegrating entropic loops, while also using deliberately broken continuity as a playful, live conceptual gesture.
The project is focused on repetition as a means of creating abstraction, improvising with organic variations of a theme, yet embracing the artificial to facilitate a psychedelic mindshift. The music references a palette of sources from Musique Concrete and Psychedelia, through to the early Chicago House mix tapes, creating a unique and compelling sound".
http://www.residentadvisor.net/feature.aspx?1355
http://perpendicularrain.blogspot.com/
http://soundcloud.com/pan_recs/heatsick-tertiary-pan-19
http://vimeo.com/30401700
http://vimeo.com/14744053
http://www.lastfm.fr/music/Heatsick
http://www.vice.com/read/com-v14n2
DESIGN A WAVE (uk)::
Duo mixte poético-synthétique, associant une electro-pop déviante à une approche légèrement décousue d'un
jam-band en dérive psychédélisante.
http://www.designawave.co.uk/
XIUHCOATL (fr)::
Un des membres fondateurs des agitateurs du Collectif Tralala, du label HEIA SUN & du trio FEU MACHIN
("musique accidentelle, mutante, hypnotique, aux aspérités noise, voix réverbérées et rythmiques telluriques"),
"préposé" à un beau fatras d'electronics, générant, en général, du bien beau bruit.
http://soundcloud.com/xiuhcoatl
http://collectif-tralala.com/blog/