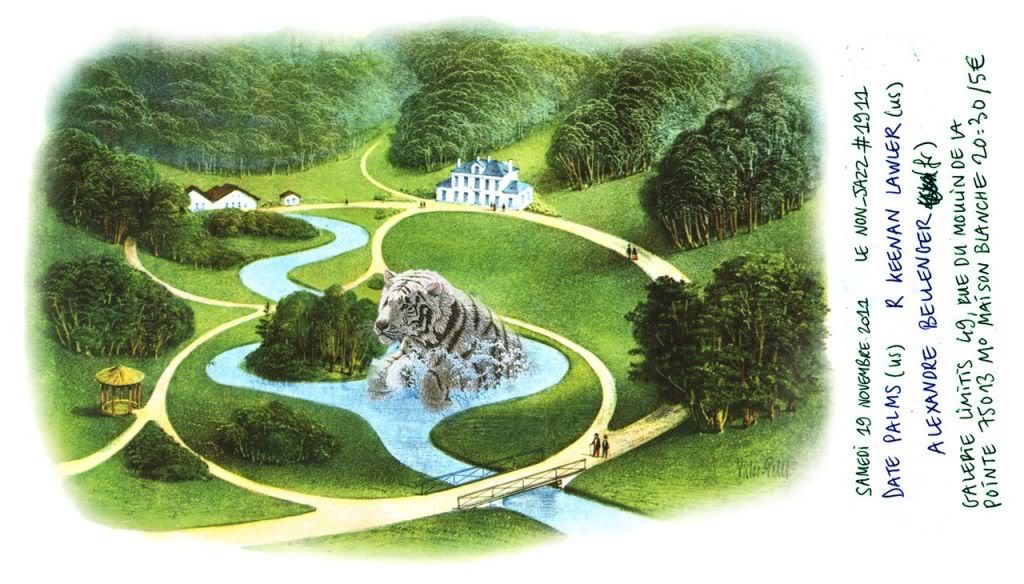 Le Non_Jazz#1911::
samedi 19-11-2011
DATE PALMS (us)
R KEENAN LAWLER (us)
ALEXANDRE BELLENGER (fr)
@Galerie LIMITIS
49, rue du Moulin de la Pointe
75013 M° Maison Blanche (7)
5€
20:30 portes
21:00 début
DATE PALMS (us)::
Duo mixte d'Oakland, CA pratiquant un "minimalisme psychédélique", raga -cosmique.
"Quickly, it reminds me of a bunch of my favourite music - Alice Coltrane, Terry Riley, Pandit Pran Nath, Cluster, Sun Araw, Brightblack Morning Light, PG Six – while combining the influences into something relatively original.
(They) strip a lot of their music back to the drones and devotional ambience of Eastern-facing cosmic jazz records…." (Uncut)
Leur premier LP "Of Psalms" est sorti sur Root Strata.
"Music for the rain forests of the moon, (...) slowed-down music of the spheres, with a canopy of glowing fog and a heavy narcotic bass pulse that keeps the whole thing rooted straight into the earth. It's a heady mix of alap paced violin phrases, jewel toned keys, harp swells, distorted tapes and ever present bass waves all crafted with precision detail in a humid space that leaves a dreamy imprint in the mind long after waking."
"(...) a strange, yet fantastic fusing of Eastern style raga drones, and hypnotic Spacemen 3 style bass buzz. The music is almost like some sort of slowcore, spacerock, dronedrift that is abstract and minimal".
"Date Palms is the new project of heavy electronic / cassette tape manipulator Gregg Kowalsky and Marielle Jakobsons (Myrmyr, Darwinsbitch) and is a strange, yet fantastic fusing of Eastern style raga drones, and hypnotic Spacemen 3 style bass buzz, which seems like a weird combo, but it definitely works, situating the Oakland duo right between those two not so disparate (as you might think) sounds, the music almost like some sort of slowcore spacerock dronedrift, writ abstract and minimal and Eastern, if that makes any sense.
http://www.datepalmsofpsalms.com/
http://www.eastbayexpress.com/ebx/date-palms-dream-and-drone/Content?oid=2032476
http://www.youtube.com/watch?v=QkohildjX5Y&feature=related
http://www.youtube.com/watch?v=5ovTMyplTso&feature=related
R KEENAN LAWLER (us)::
Actif depuis une trentaine d'années, ce musicien, compositeur/improvisateur/"artiste sonore" basé à Louisville, Kentucky,
a développé - surtout depuis la fin des années 90s et travaillant essentiellement avec une metal bodied resonator guitar - une approche toute personnelle &
profondément originale, voire excentrique, nourrie de minimalisme, blues, bluegrass, musiques traditionnelles d'Asie & d'Afrique, musiques occidentales -
- traditionnelles et "classiques": anciennes & contemporaine, psychédelisme, drone & jazz.
Performeur solo, il a aussi travaillé avec, notamment: Rhys Chatham, Charlambides, Pelt,
My Morning Jacket, Lukas Ligeti, Ignaz Schick, John Butcher, Susan Alcorn ou encore... Matmos.
Sa musique a été publiée chez, entre autres: Table of the Elements, Important, Xeric, Tompkins Square, New American Folk Hero...
Son prochain album sort cet automne chez Incunabulum.
"With an intensely focused technique, he sets bluegrass and blues-inflected tonalities against dense masses of harmonic overtones and sustained textures. It is a mesmerizing sound, one that conjures the effect of various global trance-musics (...) Inhabiting the mysterious string-space between Tony Conrad and John Fahey, Lawler's is a wholly original idiom of music that brims with near-religious exaltation and spectral, gothic dread -- a daring plunge through the darkened brambles of a particularly raw Americana." (Forced Exposure)
"I struggle to recall any recent comps that glide together as seamlessly as these Tompkins Square projects, and Volume Three is no exception. Contemplative, intricate, a simple but ornate school of folk that hangs effortlessly between the ancient and the avant-garde -- I could listen to this stuff all day." --John Mulvey, Uncut.
"Ultimately Lawler is a lone, restless artist charting his own crooked path to the outer reaches of guitar invention"
(Marc Masters. Pitchfork).
http://www.myspace.com/keenanlawler
http://www.youtube.com/watch?v=LV8f6l5Momk
http://www.dustedmagazine.com/reviews/3392
ALEXANDRE BELLENGER (fr)::
Musicien autodidacte, prolifique & polymorphe - aussi à l'aise dans le contexte de l'improvisation free, noise ou composition électronique ou ... math-rock - guitariste, platiniste & synthétisant analogique.
Ayant multiplié depuis le début des années 2000, projets, collaborations & performances - en solo ou au sein de diverses formations (BOBBY MOO, SMHOT, ROLEX, WOOOM,...), il "reviendra" sur son premier instrument - guitare électrique -
pour un solo électrisant & féroce.
http://www.dt-bs.com/fr.php?id_article=2