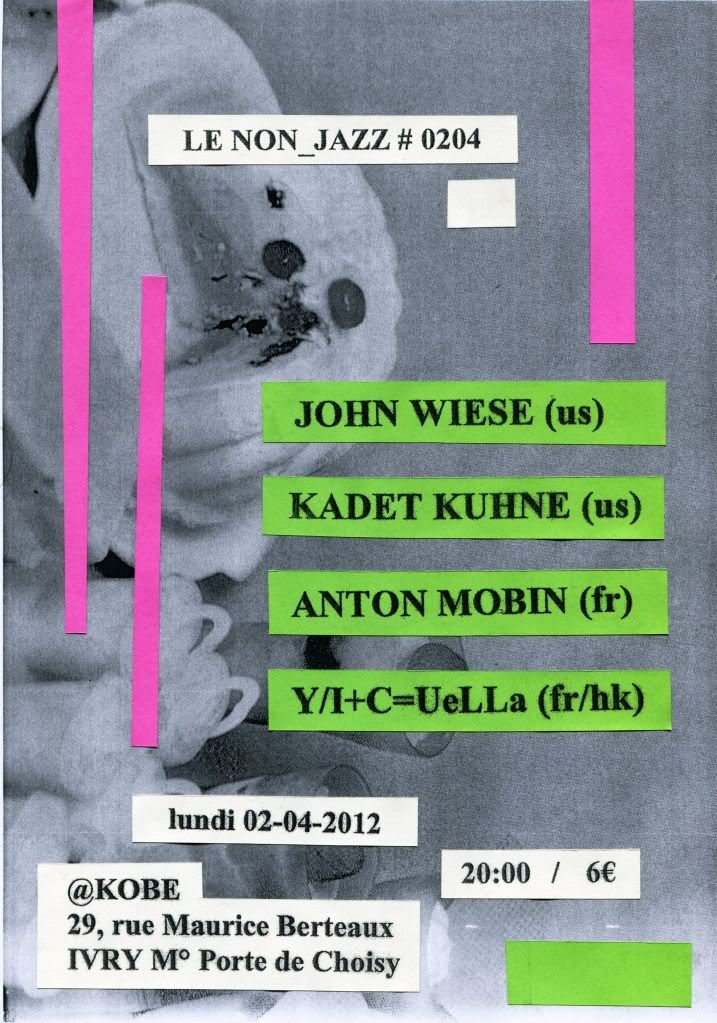 Le Non_Jazz#0204::
JOHN WIESE (us)
KADET KUHNE (us)
ANTON MOBIN (fr)
Y/I+C=UeLLa (fr/hk)
@KOBE
29 rue Maurice Berteaux
Ivry M° Porte de Choisy
20:00
6€
JOHN WIESE (us)::
Tags: "musique concrète" - "experimental" - "tape music" - "noise".
"Junky du bruit", "vétéran (âgé de 35 ans) du boucan électroacoustique le plus brutal et speedé" (METAMKINE).
Californien (LA), un des rares (LE seul ?) à avoir introduit & réhabilité avec succès le laptop dans le contexte de la déferlante noise US des années 2000 -
- compositeur-performeur, "the sound levitator" (KFW, Mimaroglu Music Sales) - aussi à l'aise dans l'environnement brut & rugueux d'une performance noise
"pure & dure", dans un basement suintant que celui un peu plus "highbrow" d'une galerie d'art ou d'un festival multi-média.
Hyper actif - très nombreuses & fructueuses collaborations (DANIEL MENCHE, BASTARD NOISE, PANICSVILLE, THE HATERS, SUN O))), BRUCE RUSSELL, WOLF EYES, BURNING STAR CORE, LASSE MARHAUG, YELLOW SWANS, EVAN PARKER, MERZBOW, SMEGMA, KEVIN DRUMM ...) -
- il dirige le label HELICOPTER, compose & performe (beaucoup) en solo, mais affectionne tout particulièrement la formule du duo - cf. HEAVY SEALS, LHD.
Sans oublier SISSY SPACEK (dont il est co-leader avec le "vocaliste" Cory RONNEAU) - imprévisible & chimérique monstre noisecore où il joue de basse, electronics & boîte à rythme.
Son dernier album "Seven of Wands" (PAN) semble marquer un nouveau départ, ou en tout cas - un moment d'accalmie (relative) dans sa bouillonnante & dense discographie.
" (...) de nouvelles directions plus marquées électroacoustiques entre la trituration concrète du micro-contact ou des cordes de guitare et des horizons statiques et infinis.
Un de ses albums les plus accessibles et musical !" (METAMKINE)
As a composer, John Wiese is an elusive one. Employing a very healthy range of conceptual framework throughout his oevure, he's unmistakably recognizable, but rarely easy to predict. No matter what the sound, we find it always sounds like Wiese. Seven Of Wands contains a romanticism only hinted at previously. Comprised of pieces from a range of eras and sequenced into a narrative arc, this very unique album has a quality of being beautiful, listenable, immersive, and transportive all at once. He probably wouldn't like this, but I dare say "musical." ('Seven of Wands' (PAN 22)
http://www.john-wiese.com/
http://soundcloud.com/pan_recs/john-wiese-scorpion
http://www.youtube.com/watch?v=pwUMns7ljeU&hd=1
http://vimeo.com/5047035
http://vimeo.com/4007126
http://www.youtube.com/watch?v=Ff8cRpjXNuw&feature=related
http://www.youtube.com/watch?v=6OwMShlQMc4
ANTON MOBIN (fr)::
" On est toujours dans des microcosmes avec Anton Mobin, des petites choses qui deviennent audibles, des manipulations qui finissent par créer une sorte de trou noir autour duquel tout un monde sonore s'organise et par lequel tout sera aspiré. Tension, respiration, articulation rythmique, matière analogique, espace distant. "
(Darby Mullins, nov. 2011)
Boucles minimalistes, instants radiophoniques, points d'intensité sonore et fragments de sons autonomes libérés de leur contexte...
Improvisateur, manipulateur d'objets, Anton Mobin développe une musique intuitive, énergique et décomplexée de tous codes élitistes qui fondent la musique improvisée.
Bricoleur, il fabrique ses propres instruments qu'il nomme "chambre préparée" et dans lesquelles sont agencés micro-capteurs et objets du quotidien, le plus souvent détournés de leur utilisation première.
http://antonmobin.blogspot.fr/
http://www.dailymotion.com/video/xb37ef_multisessions-anton-mobin_music
http://www.dailymotion.com/video/xb4gdc_multisessions-anton-mobin_music#
http://soundcloud.com/anton-mobin
KADET KUHNE (us)::
a media artist whose work spans the audiovisual spectrum. With the goal of forming somatic experiences which can prompt visceral responses to sound and movement, Kadet openly exposes the use of technology in her practice by employing fragmented, jump-cut edits and amplifying evidence of sonic detritus. This glitch aesthetic, contrasted with layered ambient reflection, is intended to heighten tensions between motion and stasis: a balanced yet heightened "nervous system" to reflect our own. Trained in jazz guitar, Kadet became attached to the instinctive nature of improvisation which led her to the California Institute of the Arts where she studied Composition and Integrated Media. As an award-winning filmmaker she has numerous shorts that have screened worldwide, and she also creates video & sound installations that involve a combination of motion sensors, customized software and online virtual space exploring themes of communication and control. Kadet's compositions twist signal processing, FM synthesis and neurological impulses into experimental electronic ambiences that make your cilia vibrate in curious patterns.
http://www.tektonicshift.com/
http://vimeo.com/30767930
Y/I+C=UeLLa (fr/hk)::
est une combinatoire performative; flicker lumineux, crash vidéo, noise sublime, de-phrasis incantatoire."
http://ctakoff.free.fr/