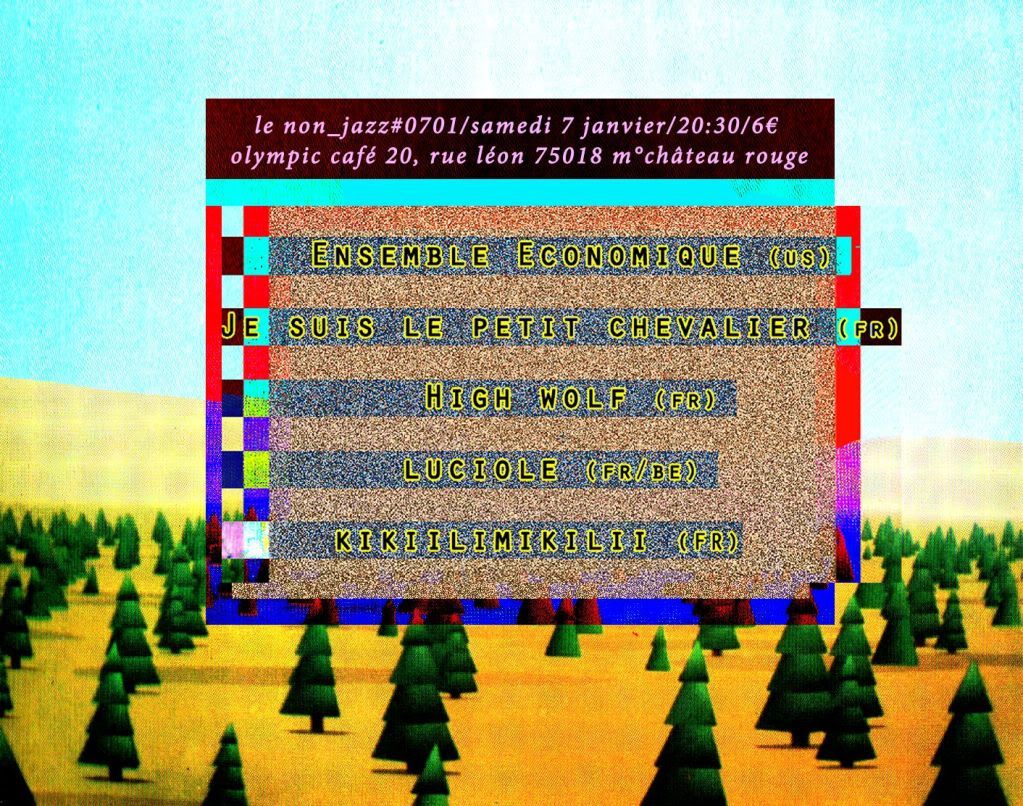 Le Non_Jazz#0701::
- - - - - - samedi le 07 janvier 2012 - - - - - -
ENSEMBLE ECONOMIQUE (us)
HIGH WOLF (fr)
JE SUIS LE PETIT CHEVALIER (fr)
KIKIILIMIKILII (fr)
LUCIOLE (fr)
@OLYMPIC Café
20 rue Léon
75018 M° Chateau Rouge (4)
20:30 portes
21h début
6€
ENSEMBLE ECONOMIQUE (us)::
Projet solo de Brian Pyle (moitié du duo californien STARVING WEIRDOS - "staggeringly beautiful, unsettling freeform soundscapes", "otherworldly junkyard drones" - Forced Exposure): très "cinématographique", développant des bandes-sons des films imaginaires...
" the looping, drugged-out solo project of Starving Weirdos' Brian Pyle (...) the sounds come together like a sort of soundtrack, maybe Pyle's personal Heart Of Darkness. It's sweaty, bleak, and intense, but despite the heady vibe, there's also some levity"). If you're looking for touchstones, it's reminiscent of more cinematic Sun City Girls or maybe the one-man Oakland collagist Porest. Check out "Real Things"'s spiraling, cannibalistic raga."
"cacophonous melodies, meditative auditory chants, & hypnotic shambolic rhythms"
"irony-free use of dated tropes like clunky drum machine rhythms, '80s synth textures, and movie dialogue snippets"
"Regardless of how a song starts, it always ultimately snowballs into something much darker and more dense as layers and layers of feedback, synthesizer, strangled guitars, and samples are added. "
http://soundcloud.com/ensemble-economique
http://ensembleeconomique.tumblr.com/
http://www.dustedmagazine.com/reviews/4697
http://www.youtube.com/watch?v=uiFt3HYP5BU
http://soundcloud.com/ensemble-economique/end-scene
HIGH WOLF (fr)::
Un des rares Français (avec p.ex. HOLY STRAYS ou TG Gondard) sur le label Not Not Fun.
De la très bonne & luxuriante psychédélia tribale, tropicale & acide, associant rythmiques lancinantes, boucles & nappes électroniques aux guitares en transe.
http://highwolf.bandcamp.com/
JE SUIS LE PETIT CHEVALIER (fr)
Projet de l'artiste visuelle & sonore, Félicia Atkinson
("for all fans of female "forestdroners" )
http://jesuislepetitchevalier.bandcamp.com/
http://vimeo.com/31131185
http://feliciaatkinson.be/
LUCIOLE (be/fr)::
"projection performance super 8, 24 min
Film d'Elsa Rossler
et Mariette Michaud
Son de Jean-Philippe Saulou (U.N.D.O., Bülanz Orgabar...)
c'est l'exploration par la caresse extrême
de l'amour fusionnel sans limite
http://vimeo.com/18740926
KIKIILIMIKILII (fr)::
Un des trois membres fondateurs des agitateurs du Collectif Tralala, du label HEIA SUN & du trio FEU MACHIN
("musique accidentelle, mutante, hypnotique, aux aspérités noise, voix réverbérées et rythmiques telluriques") dont ce sera le premier set live parisien - nappes synthétiques, drones, incantations & mélopées, immergées dans un doux océan de réverbération(s).
"kikiilimikilii's music skates between echoic choral terrains, mosquito-drone airspace, and cracked, lacustrine exotica. He hushed blend of noisy psychedelia and trance leaning rhythm patterns".
http://collectif-tralala.com/blog/music/kikiilimikilii/music/
http://soundcloud.com/kikiilimikilii
http://soundcloud.com/amdiscs/sets/kikiilimikilii-time-pressure-1/