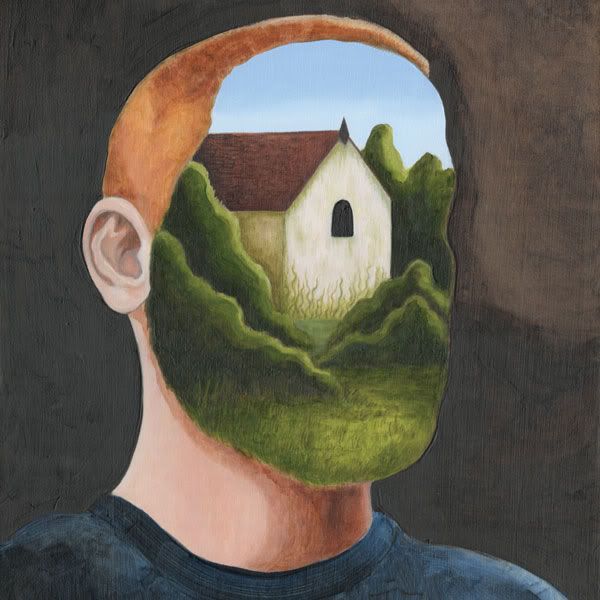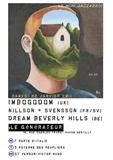 Le Non_Jazz#2201
samedi 22 janvier
IMBOGODOM (uk)
NILLSON + SVENSSON (fr/sv)
DREAM BEVERLY HILLS (be)
@Le Générateur
16, rue Charles Frérot
94250 Gentilly
M° ligne 7
ou tram T3
ou
bus 57 & 184
20:30 portes
21:00 concert
8€
IMBOGODOM (uk) aka
ALEXANDER TUCKER::
Alexander TUCKER est un artiste visuel/dessinateur et musicien-multi-instrumentiste, repéré notamment par le label ATP & Stephen O'Malley (Sunn O))), Khanate) avec qui il a régulièrement collaboré, entre autres au sein de sa formation Ginnungagap.
Sa musique est une hybride manifestant son goût de l'expérimentation, l'improvisation, le finger-picking (c'est un excellent guitariste & son amour pour le matériel électronique vintage.
IMBOGODOM=à la base un duo avec le Néo-Zélandais, Daniel Beban essayant de récréer l'esprit des explorations sonores des pionniers de la musique électronique, en particulier celles de l'âge d'or du fameux BBC Radiophonic Workshop (Delia Derbyshire, Daphe Oram...).
http://en.wikipedia.org/wiki/Alexander_Tucker_%28musician%29
http://www.myspace.com/alexanderdtucker
http://www.atpfestival.com/recordings/artist/alexandertucker/bio.php
http://www.myspace.com/523778599
http://www.thrilljockey.com/artists/index.html?id=12670
http://vimeo.com/13835044
IIMBOGODOM are the UK's Alexander Tucker and New Zealand's Daniel Beban. The Metallic Year is their Thrill Jockey debut and first release under the Imbogodom moniker. Mutual friends in sound exploration, this Trans-Atlantic duo create other-worldly transmissions where improvisation gives way to mutated song forms and intricate soundscapes.
Imbogodom began life inside the depths of BBC's Bush House, where Beban worked nights as a world service radio engineer. Taking advantage of the empty studios, Tucker and Beban dusted off the disused reel to reel tape machines and put them to work. Splicing together tape loops, the duo dove into the fine and nearly lost art of tape editing. While this technique is challenging, the process often yields great rewards. Using an array of instruments, objects, dictaphones, and voices, the duo switch between one operating the tapes and mixing desk and the other being the player. Through this process of roll exchange, the duo were able to remove the divide between player and manipulator to create a pure sonic interaction and unique meeting of minds.
"IMBOGODOM est un duo anglo-néo-zélandais qui flirte avec Terry Riley, Kraftwerk , Steve Reich et les prémices de l'Electro disons entre 1950 et 1975. Ces deux messieurs construisent des structures analogiques (oui analogiques) musicales, en travaillant uniquement avec des cassettes et leur esprit forcément éthéré allons nous dire…
"
EYE OF THE STORM
aka DUNCAN NILSSON + PER SVENSSON (fr/sv)::
Guitares + bodymics + electronics + field recordings.
DREAM BEVERLY HILLS (be)::
aka le boss du super label liégeois Young Girls Records
http://young-girls-records.blogspot.com/
"En concert c'est un synthé casio midi sur un ampli 150 watts
Et je chante parfois aussi
plutôt des sets drone dream pop"
http://aurevoirrr.blogspot.com/2008/01/dream-beverly-hills-you-can-always-see.html
http://www.archive.org/details/DreamBeverlyHills